This page: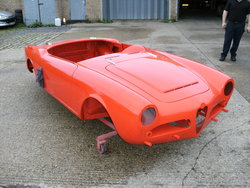 The 101 project continues
Our Alfa Romeo Giulia Spider 101 Restoration Project so far:
1. Starting Point
2. Stripping to body shell
3. Removal of the sills
4. Repairing roll over bar holes
5. Repairing the chassis
6. The 101 in the metal
7. The 101 in paint (this page)
We have now painted our 101 series Giulia, here are some pictures, the car has been etch primed and then had two coats of primer which have been flatted down dry then wet and finnaly yhe top coat was applied. All the panels have been allowed to air dry for two days between coats and the finnish is superb.
| | |
| --- | --- |
| | Here is the view you will see of my 101, headlamps flashing for you to get out of the way :-) |
| | Working our way round |
| | Doesent she look good |
| | |
| | and the engine bay |
| | interior |
| | boot |