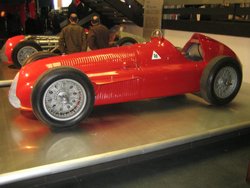 Alfa Romeo 158/159 Chassis development
The Alfetta 158/159 evolved in a number of steps and the easy way to tell the differences are:-
158 Series 1
This model first appeared in the Coppa Ciano in 1938, it produced 190 bhp @ 6500 rpm and it was easy to recognise as it had a narrow body and a single exhaust on the right hand side under the chassis.
158 Series 2
Appeared in 1939 again in the Coppa Ciano the power was up to 225 Bhp @7500 rpm using a roller bearing crankshaft, externally the bodywork was wider with a larger radiator cowl and the exhaust stayed as a single pipe but was raised above the axle line.
158 Series 3
Appeared in 1946 at the GP des Nations, this is the first of the two stage supercharged cars producing 260 Bhp @7500 rpm externally this had twin exhausts while under the bonnet there was a short forward facing induction trumpet.
158 Series 4
This appeared in 1948 at Monza and was sometimes known as the 158/47 (it was developed in 1947) this featured a larger first stage supercharger and produced 310 Bhp @7500 rpm and could be pushed to 8500 rpm where it produced 350 Bhp. externally it reverted to a single exhaust pipe and the ride height was lowered, under the bonnet the induction trumpet was extended to the front spring.
159
The final evolution of the 158 chassis and the engine was now tuned to produce 425 Bhp @ 9300 rpm, externally it had twin exhausts and the carburettor air intake was via the scuttle scoop. It also had larger drum brakes and of course the de Dion rear axle.
This is a summary of the changes BUT remember this chassis evolved and especially around the change over from 158 to 159 anything could happen (and usually did). The series numbers are not a factory designation.
Related Links: Alfa Romeo 158/159 Alfetta