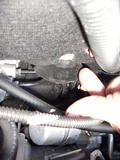 If your Mito has this drain at the back of the engine bay it should be replaced

With the S shaped one shown on the right in this picture
27/9/11
The Mito is a brilliant car and there are very few issues with it at present, so far we have had a number of cars where the modification has not been done to the drain for the scuttle and the water off the windscreen drains all over the alternator causing premature failure (see the pictures on the right hand side).
On the rear suspension we have also had a number of rear shock absorbers fail so it is worth having a glance underneath to make sure they are nice and dry.
Servicing on the Mito can be an issue as the 1.3 diesel engine has two oil filters, made by UFI or Purflux and it seems to be impossible to tell which one your car is fitted with!
JP
Related Links: Alfa Romeo Mito Service Prices