This page: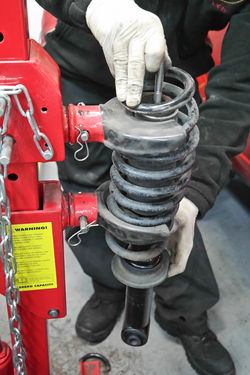 Replacing The Rear Shock Absorber On An Alfa 159 Sportwagon


The top securing nut to the shock absorber on the Sportwagon is located underneath the interior wheel arch covering either side of the rear seats. This 'How To' is based on the right hand rear shock.

Shock absorber 50515181

Workshop time: 1 hour 30 mins


If you would like to book your 159 into the workshop the price of this repair is £304.50



| | |
| --- | --- |
| | Pull the rear seat release and fold the seat forward. |
| | Undo the 10mm screw to the front cover.... |
| | ....and pull forward. |
| | Pull back the wheel arch side cover. |
| | Looking down you will see a recess filled with a piece of insulation, remove that and underneath is the 16mm top nut and pad to the shock absorber which you need to undo and remove. |
| | Undo the 17mm wheel bolts and the locking wheel bolt. |
| | Undo the 21mm nut and bolt to the bottom shock. |
| | Undo the x4 E14 top mount bolts. |
| | Using a long lever bar, force the hub knuckle down low enough.... |
| | ....so that you can remove the shock absorber. |
| | Make a note of how the top mount aligns up with the shock absorbers bottom mount. |
| | Compress the spring, undo the top 16mm nut, remove the shock and top mount with pad. |
| | Don't forget to remove the springs rubber seat and the shock absorber boot. |
| | Replace all the parts back in the correct order. |
Related Links: 159/Brera power steering reservoir replacement. | 159/BRERA upper wishbone removal | 159/Brera/Spider Front lower wishbone replacement.