This page: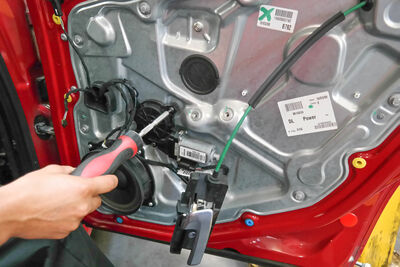 Rear Window Regulator And Motor Removal On A 159

Usually it's just the window regulator that's faulty but sometimes you may have to replace the motor as well. This 'How to' is based on the right hand side door.

Window regulator 71769765, motor 71740125 and if you want to replace the console well mat 71744253.

Workshop time: 1 hour 30 mins




You can book your car in or find a quote on replacing just the window regulator for the LEFT or RIGHT side.


| | |
| --- | --- |
| | Pull the top of the window corner trim to release the clip. |
| | Undo the 5mm Allen bolt under the window switch door well mat. |
| | Pull out the switch unit and unplug it. |
| | Prise the plastic cover from behind the door release handle, |
| | to reveal a 5mm Allen bolt. |
| | Undo the two 5mm Allen bolts in the door well. |
| | Undo the three phillips screws at the bottom of the door card. |
| | Pull off the sides of the door card from its six push fittings, then lift upwards to release it. Slide out the door release fitting and unplug the speakers and window anti trap wire. |
| | Undo the three T20 (TORX) bolts to the regulators window regulator motor and unplug. |
| | Undo the nine 10mm bolts around the inner shield, |
| | and the window regulators two 10mm retaining nuts. |
| | Next release the window regulator from the bottom of the window by popping out the white plastic securing lug, |
| | which sometimes break on removal. |
| | This is the hole that the plastic lug sits in. |