You looking at me.....?

The Shark Fins come drilled for fixing.

Shark Fin side skirt....cue the Jaws theme.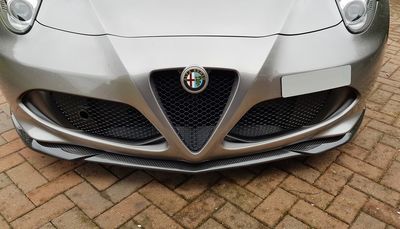 Carbon Fibre Contributions To The Alfa 4C
Recently a customer visited our workshop willing to part with their hard earned cash to make his 4C even more stunning.
They already had a firm idea of what parts they wanted and what parts they just wanted to look at, needless to say they bought the lot.
Just look at the door cards and a central console tunnel in carbon fibre you couldn't stop them buying them.
We worked with the customer discussing what was practical for now, what wasn't really needed and although the door cards looked amazing, he couldn't justify that at the moment. There was also the little problem of hiding the receipts from their better half.
It was decided that the front 'lip splitter' and the 'shark fin' side skirts was just enough carbon to compliment the already elegant lines of the 4C and stood well against the colour of the body.
Pictures courtesy of the owner.

Related Links: Front suspension block mod | Servicing prices | Carbon fibre parts