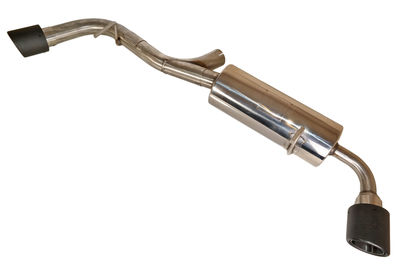 Alfa Romeo 4C performance exhausts
See our 4C specific web site for more info on the 4C
The Alfa Workshop, working closely with Quicksilver exhausts have developed a selection of performance exhausts for the Alfa 4C, with a clear goal, to increase performance, tune the exhaust tone, and reduce weight. Although something of a black art, there is also a high degree of scientific theory and maths that has to be used to achieve this.
So first the theory, in order for a performance exhaust to work you are relying on the momentum of each pulse of gas to create a low-pressure area behind it to help extract the following pulse. To create the maximum possible momentum for each pulse of gas you need to keep the speed of the gas as steady as possible, you will note that Alfa Romeo's 4C race exhaust changes from one large pipe to two smaller pipes in order to maintain the speed of the gasses in the exhaust.
The lightest system would have meant using only one exhaust pipe, something we didn't feel owners would want, this has left us with the problem of what to do with the other exhaust port in the bumper.
So in order to keep the gas flowing in the main pipe, we have added another smaller pipe at an acute angle to the gas flow, this pipe is much smaller in diameter than the main pipe and has almost no effect on the flow in the main pipe but being a smaller diameter with a higher speed of flow it adds a second note to the exhaust noise which creates a depth to the sound. This is a secret that Quicksilver has used before on their supercar systems.
However, as with all of the straight-through systems on the 4C you get resonance at around 2800rpm (roughly 80 mph or 130 kph in top gear), this is because that is the perfect tuned length for the 4C exhaust system.
In order to eliminate the drone while keeping the rounded powerful sound of our exhaust system, you can either purchase the system with a Helmholtz resonator or add one later, this simply fits on in place of the smaller pipe, this completely removes the drone and makes the car a lot less tiring to drive at motorway speeds, without detracting from the performance benefits of a straight through pipe.
And for all you speed freaks, we offer the ultimate lightweight performance system weighing in at less than 2kg without a resonator (Alfa race system is 4.55kg) using titanium technology. This has all the advantages of the standard stainless system, you can even add a resonator if required, while it weighs almost nothing, perfectly in keeping with the ethos of the 4C.
If you would like to book yourself in, the price of this service in our workshop for the Super Sport is £0.00 or £898.50 for the Helmholtz.