This page: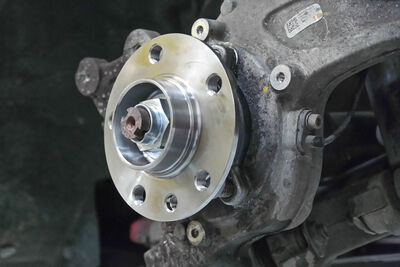 Replacing The Rear Wheel Bearing On A Giulia/Stelvio 2.9


The first thing you will need to do is to turn off the electronic handbrake via the service menu on the centre console.
This 'How to' is based on the right rear wheel bearing of a Giulia.


Rear wheel bearing 50533570

Workshop time: 2 hours 30 mins



If you would like to book yourself into the workshop, the price of this repair on a Giulia for the right side is £404.96 and the left £404.96


Press the MENU button on the centre console to display the menu. Scroll to the bottom and choose 'settings' then on the next page choose 'Driving assistance'.

'Auto park brake' should be on, click it so it shows 'off'.

Next is to click on 'Brake service'.

On this page click 'yes'.

It should then say 'Parking brake retracted', there's nothing more to do on the menu until you have replaced the brake parts.

Undo the wheel bolts to the rear right wheel.

Undo the x2 10mm Allen bolts on the rear caliper and secure the caliper away from the brake disc.

The handbrake caliper has x2 T45 bolts.

You will need to prise the handbrake caliper off with a lever bar.

Release the wiring connector and remove the handbrake caliper.

Undo the 5mm Allen brake disc locating bolt (we're using an impact driver).

Brake discs tend to stick due to corrosion so loosen the hub of the brake disc using a copper mallet.

There's x3 T30 bolts securing the brake disc shield.

Using a wire brush clean up the rusty hub bolts the best you can and douse in WD40 or a similar penetrating oil.

Bend out the hub nut securing tabs and undo the the 36mm hub nut.

Loosen the drive shaft with the copper mallet.

Work out the x4 T60 hub bolts evenly, each one a little bit at a time.

You can now remove the complete rear wheel bearing with hub.

Clean off any corrosion on the surface area and inside the recess.

Grease or copper slip the rim of the wheel bearing and the hub bolts on reassemble.

Use a new hub nut and once torqued up tap an indentation on both sides of the hub nut where the recess is on the drive shaft to form locking tabs.
Replace all other parts.

Go back to the menu display, to reset press the brake pedal...

....and activate Park Brake switch.

Pump the brake pedal (it should firm on decline) and test the brakes at a low speed.
Related Links: Brake discs and pads replacement | Auxiliary belt removal | Spoiler splitter actuator