This page: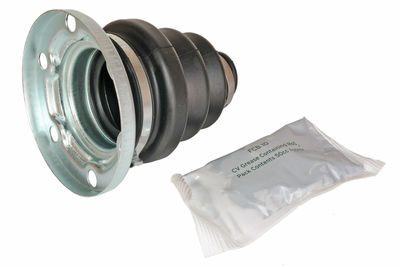 Replacing A Split Inner CV Boot On A GTV/Spider 3.0/3.2

The inner CV boot isn't available as a separate part from Alfa, they supply a complete drive shaft. This 'How To' is for the right hand side.

CV boot CVBINV6

Workshop time: 1 hour 45 mins



You can book your car in or view a quote for this service on the GTV or Spider.


| | |
| --- | --- |
| | Remove the front wheel... |
| | ...then the wheel arch side cover. |
| | To prevent the drive shaft turning whilst undoing the CV joint put a screw driver through the brake caliper into one of the vents of the brake disc or hold a 36mm spanner on the hub nut. |
| | Now you can undo the x6 8mm allen key bolts on the inner CV joint (don't lose the backing nuts). |
| | Undo the lower wishbone ball joint pinch bolt (17mm and 15mm). |
| | Using a crow bar lever the ball joint from the pillar. |
| | Now separate the two shafts. |
| | From here you can tap off the CV boot backing plate or if you prefer to do it not on the shaft, undo the cir-clip.... |
| | ....and the small CV boot clip (this boot has ripped completely in half) then give the CV joint some serious tugs to remove it from the shaft (or some choice taps with a hammer). |
| | Remove the bolt fixings... |
| | ....secure it in a vice (or by some other means) and now tap the backing plate off. |
| | Push on the the new CV boot and pack in some CV grease. |
| | Put the CV joint back on the shaft, the cir-clip and fixings. |
| | Align each bolt up to its hole and nut then tack them in place. As you do them up evenly it will pull the plate in place. |
| | Do up the small crimp clip then put everything else back together. |
Related Links: Changing the front wheel bearing | Fitting a Q2 differential | Replacing the front lower wishbone