This page: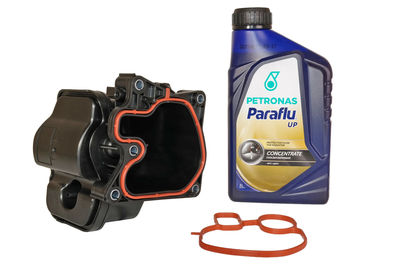 Replacing The EGR Valve Coolant Housing On A Giulietta 1.6/2.0
The alloy furs up and breaks the seal to the EGR valve plastic coolant housing causing it to leak or the back of the housing cracks. This 'How To' is based on the 2.0 engine.
Plastic housing 71772987 and coolant.

If you would like to book yourself in the price of this repair in our workshop is £313.86
| | |
| --- | --- |
| | Lift off the engine cover. |
| | Unscrew the coolant tank cap and put it somewhere obvious to remind you that it needs filling up. |
| | Unscrew the x2 5mm allen bolts to the intake hose and pull the end out, this will give you more room.... |
| | ....to undo the T20 (Torx) bolt to the bracket on the EGR valve plastic coolant housing. |
| | Pull off the vacuum pipe to the vacuum pump. |
| | Undo the x2 T20 bolts to the actuator on top of the Housing.... |
| | ...then pull off the x2 vacuum pipes and push it all aside. |
| | Undo Undo the 10mm bolt to the dip stick bracket. |
| | Undo the x2 T27 bolts to the top of the plastic housing. |
| | Remove the 10mm bolts, T27 and Phillips screws to the two part undertray. |
| | Undo the 10mm bolt to the intake hose bottom bracket. |
| | There's a hidden T27 bolt in the middle of the housing. |
| | Place a tray underneath the housing to catch the coolant, move the DPF bracket aside and undo the x2 T27 bottom housing bolts. |
| | Remove the EGR valve plastic housing, take out the inner cooling chamber and remove the vacumm pump hose. |
| | Make sure that the alloy face is free and clean of corrosion before fitting the new housing and gaskets. When topping up the coolant be sure to bleed the radiator and thermostat, run the engine briefly then check the level. |
Related Links: Giulietta parts | Replacing the fuel filter | Service schedule