This page: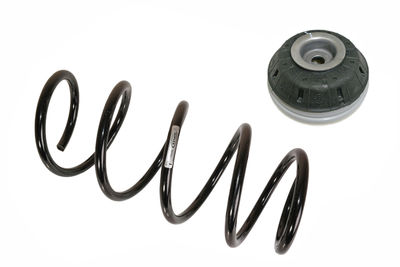 Replacing The Front Top Mount & Broken Spring On An Alfa MiTo.


Springs aren't made like they used to be. It's common for coil springs to break and the top mount bearings wear.

See our range of springs and top mount 50521707

Workshop time: 1 hour 15 mins


You can book your Mito into our workshop or just look for a quote for replacing the LEFT hand top mount or the RIGHT.



| | |
| --- | --- |
| | Undo the front wheel bolts and remove the wheel. |
| | Detach the top of the drop link from the shock absorber with a 17mm spanner & 16mm socket. |
| | Release the brake hose and ABS wire. |
| | Undo the shock absorbers two lower 18mm pinch bolts. |
| | Lift the bonnet and pop off the right hand foam pad. |
| | Undo the the right hand skuttle screw. |
| | Place a 6mm allen key into the top of the shock absorber rod to hold it while you undo the 18mm top mount nut. |
| | Compress the spring, undo the nut on the top mount and extract the shock absorber. |
| | If you're replacing the spring then compress the new spring other wise just put it all back together. |
Related Links: Font wiper motor removal | Servicing costs