The engine has seen better days and it turns over but does not run

The dash is a mess but appears to be all there

Nice, a rust hole in the chassis

Some one fitted a roll bar at some point , so much for never raced or rallied!

Mmmmm

Genuine mileage?

Rust, always a problem

Reasonably square front end

A selection of spares that came with it

Some interesting dents in the rear bumper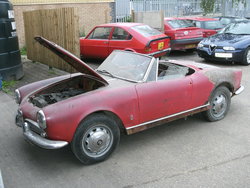 Restoration of a Giulia Spider
Our Alfa Romeo Giulia Spider 101 Restoration Project so far:
1. Starting Point (this page)
2. [lnav=Project-101-Giulia-Spider-strip-to-body-shell.shtml]Stripping to body shell[elnav]
3. [lnav=Project-101-Giulia-Spider-repairing-the-sills.shtml]Removal of the sills[elnav]
4. [lnav=Project-101-Giulia-Spider-hole-repair.shtml]Repairing roll over bar holes[elnav]
5. [lnav=Project-101-Giulia-Spider-repairing-the-chassis.shtml]Repairing the chassis[elnav]
6. [lnav=Project-101-Giulia-Spider-in-the-metal.shtml]The 101 in the metal[elnav]
7. [lnav=Project-101-Giulia-Spider-painted.shtml]The 101 in paint[elnav]
Once in a while, you need to go back in time and try an older car, it brings you back to reality, it cures those "if only" moments and generally makes you realise how good modern cars are so I have committed myself to restoring this 101 Giulia spider, as you can see it is quite a project.
Its chassis number is 10123 392594 and the engine number is 112 16148.
I am trying to find out a little more about the car but I suspect it is one of the last of the line for this model. The engine has the correct code (112) to be to the original one for this car.
The car is missing some parts like the inner and outer door handles on the driver's side, it has no hood or a spare wheel and I am sure we will find other parts that have gone astray previously during the strip down and rebuilding process.
Just to add interest to the project it came with a number of spares that are nothing to do with this car at all, for instance, there are two sumps off the later Giulia which will not fit this car and it also came with a Giulietta gearbox which is also useless. All that said the car has most of the correct parts still on it so there is a bonus.
We will over the next few weeks strip the car down to see what other issues there are with it and I am sure it will be much worse than we expect, these projects always are. I also expect that it is going to cost approximately twice what I originally thought, so anyone else who is in this position please take note.
Here is a list of what is required:
- Outer drivers door handle
- Inner drivers door handle
- Window winder handle
- Hub cap
- Hood
- Headlamp bezel
- Both sills complete
- Floor pan complete
- All outriggers to sills
- Airbox complete *
- Boot floor
- Wheel arches
- Heater ducts
- Drivers side door inner panel
- Spare wheel
- Carpets
- Radio *
- Number plate light lenses
- Number Plate holder
Update: an official response to our enquiry on the car's origin...
with reference to your request, we are informing you as follows.
According to our documentation files, the chassis number AR 392594 originally corresponds to an Alfa Romeo Giulia Spider (101.23), engine series AR 00112, manufactured on the 11th January 1965 and sold on the 7th June 1965 to Alfa Romeo Inc., Newark, USA.
The body colour is red, with black interiors.
Yours, Sincerely,
Marco Fazio
Alfa Romeo Automobilismo Storico
Centro Direzionale
Viale Alfa Romeo
20020 Arese (MI) Italy

Our Alfa Romeo Giulia Spider 101 Restoration Project so far:
1. Starting Point (this page)
2. [lnav=Project-101-Giulia-Spider-strip-to-body-shell.shtml]Stripping to body shell[elnav]
3. [lnav=Project-101-Giulia-Spider-repairing-the-sills.shtml]Removal of the sills[elnav]
4. [lnav=Project-101-Giulia-Spider-hole-repair.shtml]Repairing roll over bar holes[elnav]
5. [lnav=Project-101-Giulia-Spider-repairing-the-chassis.shtml]Repairing the chassis[elnav]
6. [lnav=Project-101-Giulia-Spider-in-the-metal.shtml]The 101 in the metal[elnav]
7. [lnav=Project-101-Giulia-Spider-painted.shtml]The 101 in paint[elnav]