This page: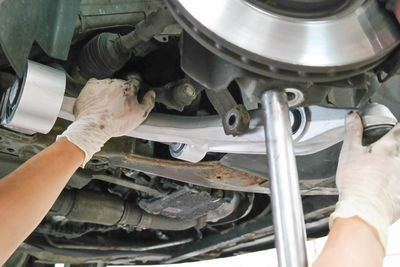 Replacing The Front Lower Wishbone On An Alfa 159/Brera/Spider
When replacing the lower wishbone you need to be a little brutal to coax it out of it's habitat.....but then it's not much different trying to get it back in! This 'how To' is based on the right wishbone of a 159.
LEFT wishbone 51842925, RIGHT 51842924
WORKSHOP TIME 1 hour
You can BOOK your 159 in or just look for a QUOTE for replacing the front LEFT lower wishbone or the RIGHT.
| | |
| --- | --- |
| | Undo the wheel studs to the right hand front wheel and remove the wheel. |
| | To remove the undertray undo all the 6mm allen bolts and T30, Phillips screws. |
| | Undo the 21mm nut (or 18mm 50500429 depending on model) to the wishbone ball joint. |
| | If you look at the bottom of the front pillar where the ball joint falls through you will see that there is a collet (inner sleeve). Make sure that on removal of the ball joint, if the collet is stuck to the ball joint you don't throw it away. |
| | Undo the E18 bolt (60692912) and 21mm nut to the fork leg. |
| | Tap out the bolt with a copper mallet (not a hammer as illustrated). |
| | Use a ball joint splitter to separate the ball joint from the pillar. If you don't have one, using a copper mallet you can strike the pillar until.... |
| | ....you achieve the same outcome. On this occasion the collet has stayed in the pillar. |
| | Undo the x2 21mm bolts (811900219) that pass through the sub frame to the wishbones inner front bush (on some models you won't be able to remove the bolts completely). |
| | Undo the E18 bolt (811900049) while holding the top nut with a 18mm spanner and the x2 E14 bolts (60699893)with 17mm nuts on the wishbones inner rear bush. |
| | Turn the steering wheel to full RIGHT lock, jack up the pillar then using a lever bar prise the head of the wishbone forwards away from the pillar. |
| | Work with a lever the inner rear... |
| | ....and front bush until the wishbone is free. |
| | Align up the new wishbone. |
| | To locate the inner rear bush you will need a hammer and a piece of wood. |
| | Copper slip the x2 21mm bolts. |
| | Once you have the front inner bush in place you can lever it into position for the bolts. |
| | Now carefully lever the head of the wishbone into position minding the thread and rubber boot. Copper slip all remaining bolts and put back together. |
Related Links: Upper wishbone removal | Servicing