This page: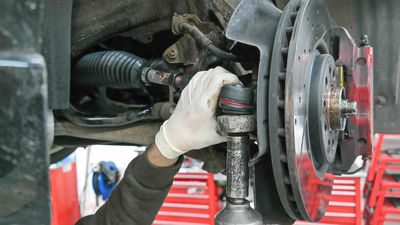 Replacing The Track Rod And Track Rod End On An Alfa 159/Brera/Brera Spider

When replacing the track rod you will probably find that the track rod end has seized to it, this will also need replacing. Before the track rod end can be properly tightened the tracking will need to be adjusted. This 'How to' is based on the 159.

Workshop time: 1 hour

Right track rod end 77363707, left track rod end 77363706 and track rod 2111001.

You can book your 159 in or just look for a quote for replacing the left track rod end or the right.


Undo the 17mm wheel bolts, the locking wheel bolt and then remove the wheel.

Turn the hub to full left lock to allow more room to work with and undo the 18mm nut to the track rod end.

Separate the ball joint from the fork leg with a ball joint splitter.

Prise apart the rear clip to the steering rack boot.

Slide the boot up so you can loosen off the 38mm track rod (anti clockwise).

Unscrew the track rod and track rod end.

Apply a small amount of thread lock to the end of the new track rod....

....and screw into the steering rack.

Pull the new boot over the track rod. Turn the hub to full right lock and push the rear of the boot over the rack end then back to left lock.

Crimp the boot clips at both ends.

Apply some copper slip and thread the 19mm securing nut and 30mm track rod half way on.

Do up the ball joint nut and replace the wheel and bolts.
Tracking will need to be adjusted before the the track rod end locking nut can be tightened.
Related Links: Lower wishbone replacement | Upper wishbone removal | Fixed price servicing