This page: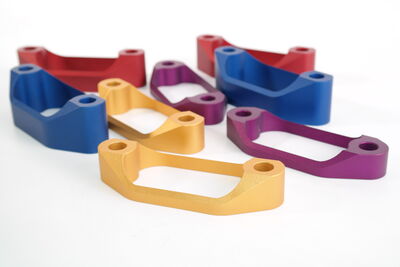 Fitting Front Suspension Blocks To The Alfa 4C

This 'How to' is based on the FAST ROAD spacers showing fitment to the right side.
See our 4C specific web site for more info on the 4C




You can book your car in or just look for a quote for this service using FAST ROAD or RACE settings.



It's important NOT TO REMOVE any shims from their present positions.


Jack up the car making sure it is properly supported, the jacking points are indicated by small arrows on the sill, if you don't have access to air tools make sure you loosen the front wheel nuts before you do this.

Undo the bolts to the front right side wheel then remove the wheel.

Undo top shock absorber bolt and remove it, pulling the top of the shock absorber out so it misses the chassis.

Undo the top wishbone to chassis securing bolts, if you use slight downward pressure on the disk hub assembly you can get the socket in more easily.

Pull shock absorber top mounting away from the chassis

Jack up the outer ball joint and the wishbone will come off easily when there is no torsion on the bushes.

Remove the existing upper black spacers and fit the new GOLD spacer on the rear mounting point and the SILVER spacer on the front mounting point. Re fit the upper wishbone, but only with the nuts finger tight and leave the wishbone away from the chassis so the top of the shock absorber can move up and down.

It is best to undo the small bit of undertray under the lower wishbone first and just pull it down to get more clearance to work in.

Next undo the lower wishbone securing bolts and again get the wishbone level so there is no torsion on the bushes and the wishbone will come off easily.

Remove the original lower silver blocks but LEAVE THE SHIMS in place. If you have already added shims to the lower wishbone these need to be removed to get you back to Alfa Romeo's standard settings. You can add a couple of shims both FRONT AND BACK to increase the camber if required but the nylock nut should have some thread showing through it when it is torqued up.

The BLUE block goes at the rear of the car and the RED one goes towards the front of the car. Refit the wishbone's (not forgetting the top wishbone is still loose) and undertray. Then refit the top of the shock absorber.

Repeat the whole process on the left side then replace the front wheels and lower the car to the ground, torque wheels up.

Set tracking as specified in the technical information section below.

NOW your car will handle correctly.

Tracking should be total toe=3mm toe in
or 0 degrees 15'
With no tolerance!!!!!

All torque settings on this site are in DaNm to get to Nm multiply the figures given by 10.

A. M10x1.5 5.2/5.8+45°
B. M14x2x95 13.5/16.5
C. M8x1.25x25 1.8/2.2
D. M10x1.5 5.2/5.8+45°
E. M8x1.25x35 2.3/2.8
F. M10x1.5 5.2/5.8+45°
G. M12x1.25 11.4/12.6
H. M10x1.25 4.5/5.5
I. M12x1.25 5.4/6.6
J. M12x1.25 5.4/6.6
Related Links: 4C Suspension geometry blocks | Cam belt replacement | Front upper wishbone ball joint