This page: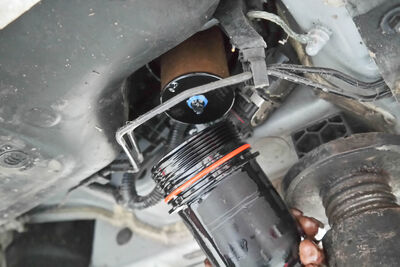 Replacing A Fuel Filter On An Alfa Giulia 2.2

On this early 180hp model the fuel filter is accessed from underneath in front of the fuel tank on the far left side.

Fuel filter 77367410



Undo the x3 T25 (TORX) to the heat shield in front of the LEFT rear wheel...

...and the x5 10mm nuts.

Prise the head of the 'push type' fastener.

Remove the heat shield by sliding it towards the middle of the vehicle.

With a flat head screw driver unscrew the fuel drain plug....

...and drain the fuel into a suitable container.

Using a 50mm spanner (or socket) turn the bottom of the fuel filter cap anti clockwise to remove.

Pull out the fuel filter from its housing and renew the ring seal on the cap.

When you replace the fuel filter and cap use a new drain plug and seal.
• Cap 25nm
• Drain plug 2.1-2.5nm

Refit the heat shield.
Related Links: Oil and filter replacement | Fixed price servicing | Service schedule