This page: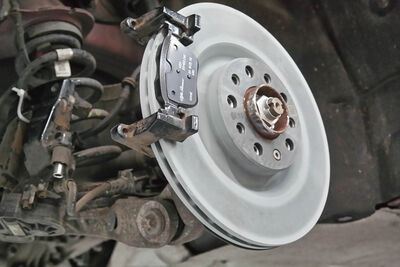 Replacing The Rear Brake Discs And Pads On A Giulia (Stelvio) 2.0


When replacing the rear brake discs and pads you will first need to turn off the electronic handbrake via the 'service menu' on the centre console. This 'How to' is based on the Giulia.

Brake pads 77368716, brake discs 50554319 or 50554320

Workshop time: 1 hour




If you would like to book your Giulia into our workshop the price of this service for discs 320mm diameter is £345.75 or 292mm diameter £399.75



Press the MENU button on the centre console to display the menu. Scroll to the bottom and choose 'settings' then on the next page choose 'Driving assistance'.

'Auto park brake' should be on, click it so it shows 'off'.

Next is to click on 'Brake service'.

On this page click 'yes'.

It should then say 'Parking brake retracted', there's nothing more to do on the menu until you have replaced the brake parts.

Undo the 17mm wheel bolts and the locking wheel bolt to remove the wheel.

Unplug the brake pad 'wear' sensor.

Release the electrical conduit from the retainers.

Prise out the brake pad retaining spring.

Undo the x2 3mm Allen bolts to the cover plate.

Pull out the x2 dust caps...

...to gain entry to the x2 7mm Allen bolts holding the brake caliper.

Remove the calliper and brake pads.

To keep the calliper out of the way you can secure to the rear spring (we used a cable tie).

Undo the x2 E18 bolts to the brake calliper carrier and remove.

Undo the 5mm Allen brake disc locating screw.

Give the brake disc a little tap to loosen any corrosion holding it to the hub.

Clean any corrosion from the brake calliper, carrier...

...and hub.

Push the piston on the brake calliper in until it seats.

At points of contact (where the brake pads touch) on the calliper and carrier dab some VR 500 (stops the pads from sticking) or something similar then reassemble using the new components.

Go back to the menu display, to reset, press the brake pedal...

....and activate Park Brake switch.

Pump the brake pedal (it should firm on decline) and test the brakes at a low speed.
Related Links: Front pads and disks | Oil and filter | Service schedule