This page: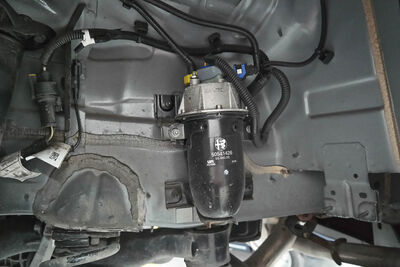 Replacing The Fuel Filter On An Alfa Stelvio 2.2 Diesel

The fuel filter on the 2.2 is located in the left side rear wheel arch.

Fuel filter 77367892
Workshop time: 45mins



If you would like to book yourself into the workshop, the price of this service is £116.25


Safely suspend the vehicle off of the ground then remove the left rear wheel.


Undo the x5 10mm plastic nuts to the wheel arch liner.

Facing the wheel arch undo the x2 10mm bolts plus the 10mm nut underneath the left corner.

On the right corner undo the x2 T25 (Torx) screws to the inner edge and the x2 underneath.

Using a clip prying tool carefully unclip the wheel arch trim starting at the right corner.
Remove the trim all the way to the top.

About half way up under the trim is a 'push type retainer clip' which needs removing.

Undo the x2 5mm allen bolts holding the fuel filter housing.

Unplug the inlet, outlet pipe and electrical connector at the top of the fuel filter housing. Take care when disconnecting the fuel coupling as there may still be some pressure in the system. If you want to depressurize the system place a piece of tubing over the 12mm bleed nipple and briefly open it half a turn.

Working over a suitable container (to catch the fuel) undo the x6 T20 screws to the top cover of the fuel filter housing.

Remove the filter and top half of the housing.

Slide of the fuel filter.

Slide on the new fuel filter making sure the breather pipe is align with the top then give it a push until it sits flush with the housing.

Put the fuel filter housing back together, there's a tab on the top section which sits in a recess on the lower section.

Reattach the fuel filter housing.
The system will need bleeding so attach one end of a clear hose to the 12mm bleed nipple and the other end into a suitable waste container.
Press the start button (do NOT hold it down), this will start to prime the fuel system, after you have pressed the button go back to the bleed nipple and turn it quarter to half a turn anti-clockwise and hold it there until you hear the fuel pump cut out then do it back up.
Do this about three times until no more air bubbles come out then put everything back together.
Related Links: Oil and filter replacement | Cam belt renewal | Servicing