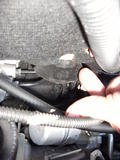 If your Mito has this drain at the back of the engine bay it should be replaced

With the S shaped one shown on the right in this picture
27/9/21
The Mito is a brilliant car and there are very few issues with it at present, so far we have had a number of cars where the modification has not been done to the drain for the scuttle and the water off the windscreen drains all over the alternator causing premature failure (see the pictures on the right-hand side).
On the rear suspension, we have also had a number of rear shock absorbers fail so it is worth having a glance underneath to make sure they are nice and dry, if the car has adaptive damping these shocks absorbers are very expensive.
The front suspension upper mounting bearing can wear which causes a twang type noise when you turn the steering from lock to lock while stationary.
Servicing on the Mito can be an issue as the 1.3 diesel engine has two oil filters, made by UFI or Purflux and it seems to be impossible to tell which one your car is fitted with!
There have been occasional issues with the electric steering system, where the power steering fails and it puts a light on. This is an expensive repair but it is quite rare.
On higher mileage cars, around 100,000 miles, the multiair unit has caused problems if the car has not been regularly serviced or the wrong oil has been used. When the multi air unit fails it can fail in one of two ways, it can cause a miss fire at idle that disappears at higher revs or it can make a clatter from the camshaft area of the engine.
Check to make sure there are no whines from the gearbox as the bearings inside can wear on higher mileage cars.
The wiring between the body of the car and the tailgate can break causing issues with the rear lights, rear wiper heated rear screen.
JP
Related Links: Alfa Romeo Mito Service Prices