Alfa Junior Zagato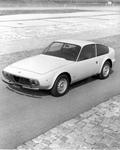 Alfa Junior Z

Alfa Romeo Junior Zagato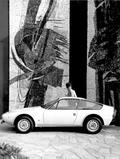 Alfa Romeo Junior Z

The factorys Junior Z

A very different JZ / Periscopio / Alfetta cross with a mid engine
The Junior Zagato is a 105 series Giulia based car and it shares the same floor pan as the Giulia Spider and as such a lot of the parts like the exhausts, prop shaft, engine, gearbox, and running gear are interchangeable. This makes the Junior Z a very exclusive and practical Alfa Romeo to own.
The car comes in two versions: the short-tailed 1300 and the long-tailed 1600. They changed from one to the other in 1972. First released to the public in November 1969 at the Turin motor show the car looked fast, however it is only 5kmh faster than the 1300 GT and even though the early cars had alloy doors and bonnet it is only 10 Kg lighter, so the performance could not justify the 800,000 lira difference in price. However, the looks could.
The car, as usual with Zagato designs was clean and fresh with an emphasis on good visibility. The styling was also very advanced; the wedge shape was the precursor to many designs in the 1970s and the design was virtually copied by the Honda CRX in the early 1990s.
Aerodynamically the cam tail was quite advanced and was a carry-over from the TZ1 and 2's. The headlamps are covered by a plexiglass screen that has a central hole in the Alfa Romeo emblem to cool the radiator while the louvres to the left feed cold air to the carburettors.
At the back, the hatch has an interesting feature in that it can be raised by a switch in the centre console to provide extra cabin ventilation.
The 1300 was produced for 3 years and in that time 1108 were produced while 402 of the 1600's were produced between 1972 and 1975 and even this limited production run stretched the production facilities at the Zagato factory, however, it helped cement relations between Alfa Romeo and Zagato and put them on an equal footing with Bertone and Pininfarina as a carrozzeria, which was something of a watershed for the company.
To drive a Junior Z today you will immediately notice the slightly stiffer suspension settings and this helps the car to feel considerably more nimble than the GT. This feeling is aided by the short overhangs front and rear, which help you to place the car exactly where you want it.
The engine and gearbox are exactly the same as the GT and the gear ratios suit the car very well with gear selection being both positive and precise. The clutch, being hydraulic, is both light and self-adjusting, and easily able to cope with the 1600s 109 bhp.
When pushed hard the car tends to understeer, however, this can be balanced on the throttle in classic rear-wheel-drive fashion to provide a very entertaining drive, and it is truly an Alfa Romeo in every sense.
Related Links: Alfa 105 Junior Zagato Parts | Alfa Giulia Engine Strip | Alfa Romeo Giulia Gearbox strip and rebuild | The NEW Alfa Junior/Furiosa