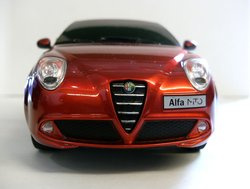 Alfa Romeo Mito remote control toy
How cool is this for Christmas, a remote control Mito

Thats right folks we have got this stunning remote control Mito for sale, this car would be perfect for pulling Barbie on xmas day, we dont see how she could resist.
here is the spec

0-60 faster than a Ford any day
Top speed: as fast as your Dad's car (when in Dad's car)
Turning circle: 1 metre (ish)
Kerb weight: 168 grams
Tyre size: 0.9/45/3/4"
Optional extras: Batteries
Colours, Biancospino white, Alfa Red, Metallic red
Engine: 4.5v
Automatic transmission
Road Tax Exempt
No congestion charge
MPG, dont know we couldnt get a gallon in!
These are only £15 so click here to purchase and you too can be the owner of a new Alfa Romeo, straight out of the box!
Related Links: Alfa Mito Service Costs