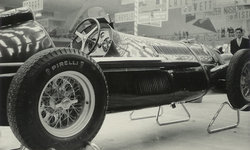 A brief history of the Pirelli Cinturato
22nd May 2009
Pirelli tyres have been around for one hundred years and won their first motor sport event when Prince Borghese Itala won the Peking - Paris race one hundred years ago.
The Pirelli Cinturato was first introduced in the 1950s, and it was the first example of a textile cord braced radial tyre. The Pirelli Cinturato quickly became the dominant radial tyre in European GT and sports car racing circles.
The Pirelli Cinturato combined unprecedented grip with high-speed capabilities, the Cinturato also gave a supremely comfortable ride. Not surprisingly, the Pirelli Cinturato soon became standard equipment on many of the great Italian marques of the era, including Alfa Romeo, Ferrari, Maserati, and Lamborghini.
In the '50s and '60s Alfa Romeo built their cars with 400mm wheels, and fitted with the 165R400 Pirelli Cinturato. So Alfa's 1900, 2000 and 2600 are all fitted the 165HR400. Today Pirelli are the only company that makes a suitable H speed-rated tyre that is specifically designed for use on sports cars.
Later the Giulietta and Giulia Alfa's were fitted with the 155R15 Pirelli Cinturato which today is available in an S or H speed-rated tyre. The H tyre has recently been DOT and E-marked to make them perfect for road and track use. The 155R15 Cinturato was the tyre used by Alfa up until 1969/70 when they changed to the 165R14. All being well the 165R14 will be reproduced next year and like the 155HR15 will have the H speed rating DOT and E-markings
These tyres are available directly from Longstone Tyres Pirelli's distributor who offer free carriage in the UK, and at present, the UK VAT rate is only 20%

0044 (0) 1302 711123 www.longstonetyres.co.uk
This is a free advertorial for Longstone Classic tyres, they are an independent company and as such we do not endorse their services......etc, etc, bla, bla. If your company/organisation has something interesting to tell our customers and it compliments our website please feel free to email us with your content