The classic straight eight Alfa Romeo engine in the Museum

Part of Marco Cajani

The cars Marco took to Balacco for us to try!!!!!!!!!

The view from the passenger seat of an 8C @120 mph

From left to right, Jochen Mass, M Teresa De Filippis, G Munaron, N Galli and Marco Cajani

The Motley crew from the UK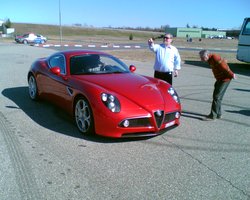 One of the best Alfa Romeo Clubs in the World
Occasionally I get an invite that is too good to turn down, as you may be aware I am a member of a number of Alfa Romeo related clubs and I was invited to join the Scuderia del Portello for the weekend of the 1st of March 2008 to go to their annual prize giving at the Alfa Romeo Museum in Arese near Milan. I love to see the Museum cars so there was no option I had to go, the Museum rotates its cars regularly so there is always something new to see, so at 4 am on Saturday morning I dragged myself out of bed and parked myself in cattle class with Ryanair, who charged me £6.00 for NOT taking a bag! and flew to Bergamo. When we arrived at the other end we were met by a coach which was to be our transport for the weekend and we were whisked off to the Museum arriving there at around 10 am to be given light refreshments followed by the club prize giving, which was mostly in Italian, surprisingly, and as I was unable to follow much of what was being said I had a poke around the Museum exhibits. This was followed by a buffet lunch organized by the club and then we were given a tour of Alfa Romeo's design centre.
The design centre was fascinating, first of all, we were taken to reception and had all our photographic equipment removed, then we were given a talk on the design philosophy of Alfa Romeo with an incite into how the design and development of an Alfa Romeo model take place and how it has evolved over the years from the hand-drawn drawings of the '50s to modern CAD designs we were then allowed to see some of the design workshops under the strict supervision of two security guards. Interestingly a lot of the pre-production parts are made by hand with the designer and the craftsman working together to get the design right.
From there we were taken by our now familiar bus to Marco Cajani's (seen in the picture top left directing the 8C) collection of Alfa Romeo,s which included some very interesting racing cars from a very trick Alfa 75 through to a formula 1 car, these cars were all in immaculate condition and were all prepared for racing. Then he took us downstairs to where he keeps the cars he is repairing for the club and there were some fascinating cars like a Giulietta SS and a number of variants of the 1900 including a one-off that was used as a support car for the tour de France cycle race which still had the dents in the roof where the bikes had hit it. Then it was off to bed to await the next day's activity's, I could not sleep I was so excited.
The next day our faithful coach driver took us to the factory test track at Balacco near Turin. They're waiting for our small group Marco had a collection of cars for us to try, the Guy is an unbelievable host. So there we were the sun shining and some of the greatest cars in the world, and a test track to try them out on, really there is nothing you could pay for this experience there is only one word for it awesome, I will never forget hurtling down one of the straights at flat chat in an 8C Competizione, which, I hasten to add he had only just got. From the track, he took us to the old Auto delta restaurant next to the circuit for Sunday lunch which lasted all afternoon and then it was back to the Airport and back to reality. A wonderful weekend and My thanks to Marco and all who made it possible.
JP